Fortune Favours The Bold – check out Bill's interview in The Mayfair Times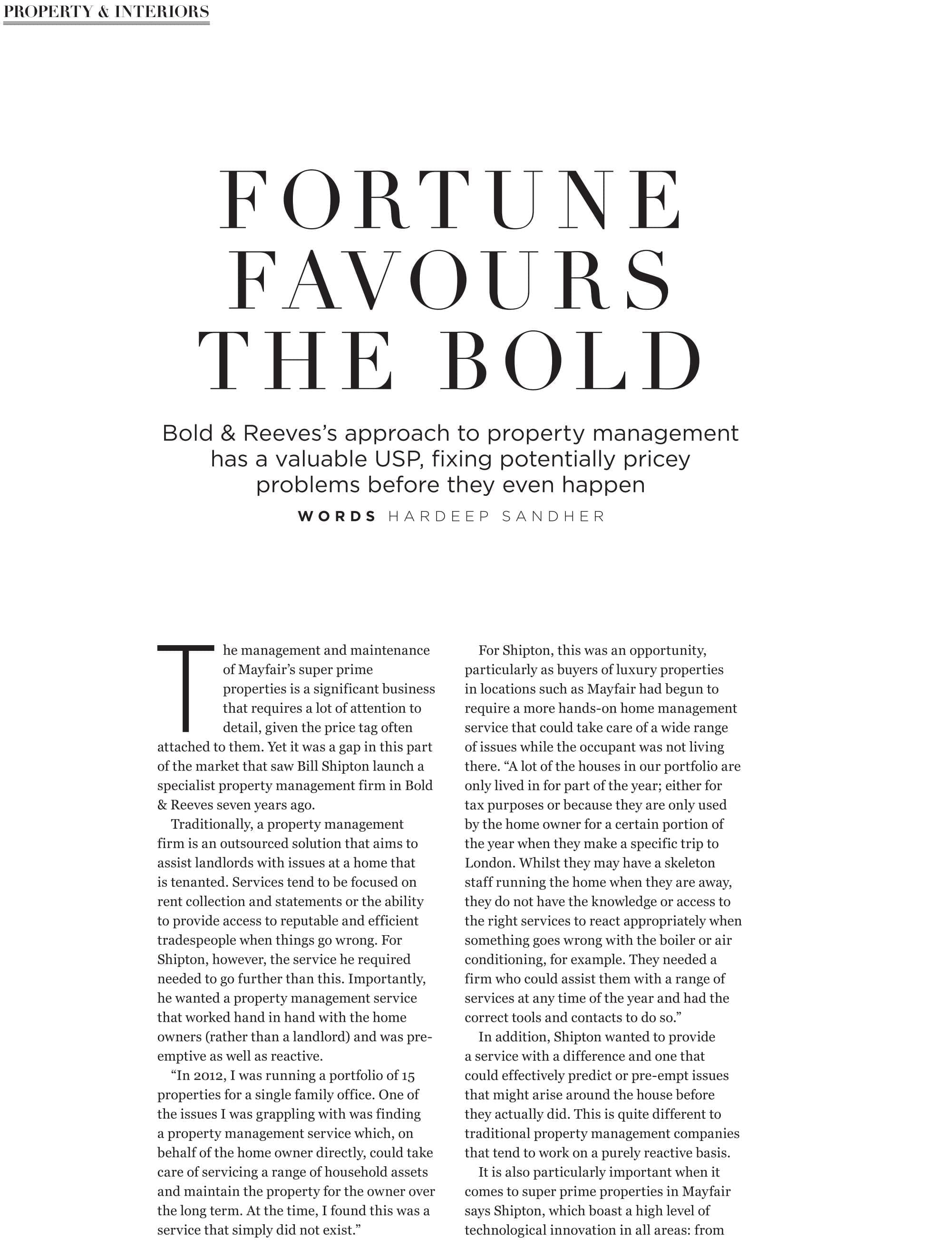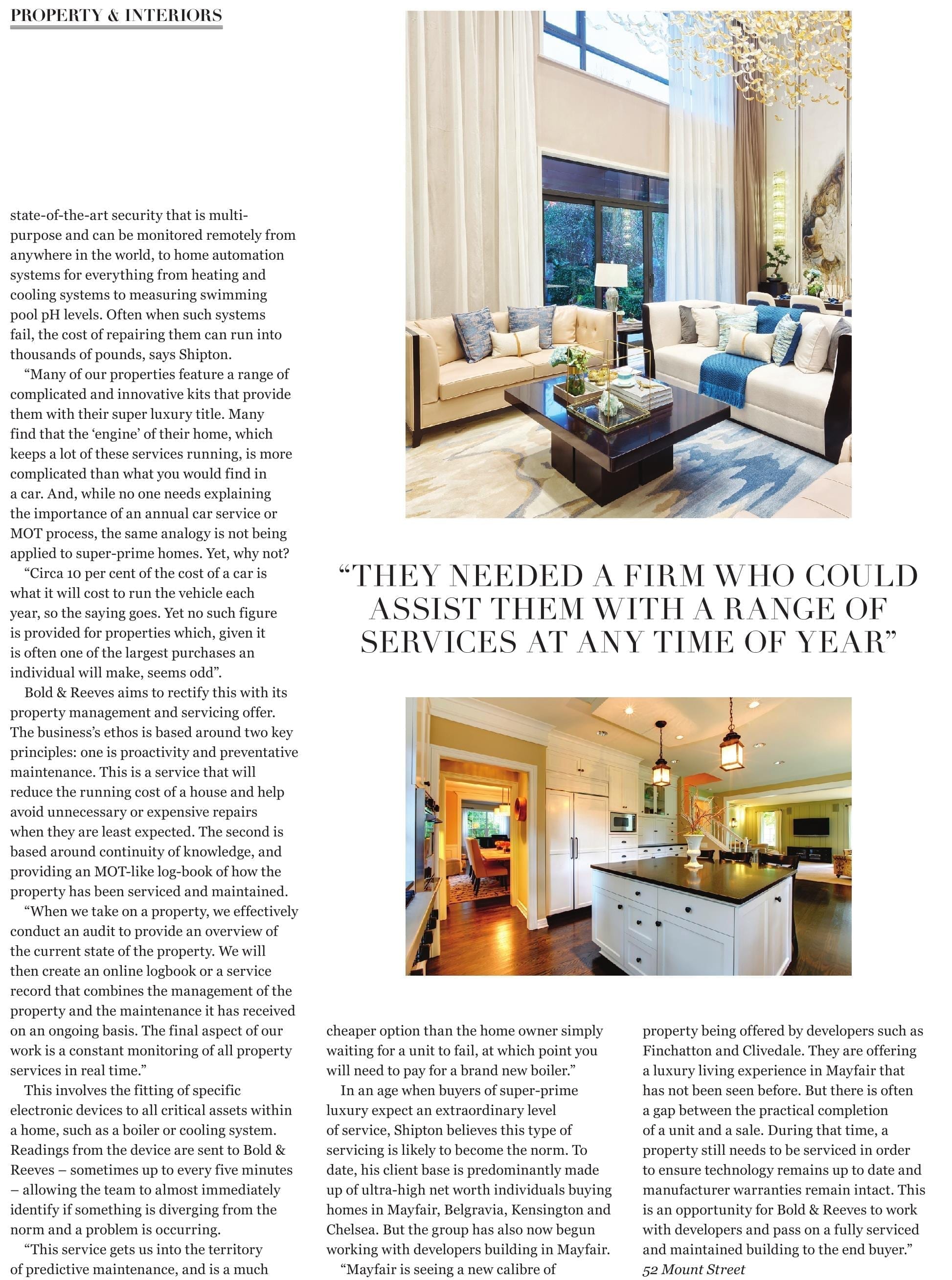 The management and maintenance of Mayfair's super-prime properties is a significant business that requires a lot of attention to detail, given the price tag often attached to them. Yet it was a gap in this part of the market that saw Bill Shipton launch a specialist property management firm in Bold & Reeves seven years ago.
Traditionally, a property management firm is an outsourced solution that aims to assist landlords with issues at a home that is tenanted. Services tend to be focused on rent collection and statements or the ability to provide access to reputable and efficient tradespeople when things go wrong. For Shipton, however, the service he required needed to go further than this. Importantly, he wanted a property management service that worked hand in hand with the homeowners (rather than a landlord) and was pre-emptive as well as reactive.
"In 2012, I was running a portfolio of 15 properties for a single family office. One of the issues I was grappling with was finding a property management service which, on behalf of the homeowner directly, could take care of servicing a range of household assets and maintain the property for the owner over the long term. At the time, I found this was a service that simply did not exist."
For Shipton, this was an opportunity, particularly as buyers of luxury properties in locations such as Mayfair had begun to require a more hands-on home management service that could take care of a wide range of issues while the occupant was not living there. "A lot of the houses in our portfolio are only lived in for part of the year; either for tax purposes or because they are only used by the homeowner for a certain portion of the year when they make a specific trip to London. Whilst they may have a skeleton staff running the home when they are away, they do not have the knowledge or access to the right services to react appropriately when something goes wrong with the boiler or air conditioning, for example. They needed a firm who could assist them with a range of services at any time of the year and had the correct tools and contacts to do so."
In addition, Shipton wanted to provide a service with a difference and one that could effectively predict or pre-empt issues that might arise around the house before they actually did. This is quite different to traditional property management companies that tend to work on a purely reactive basis.
It is also particularly important when it comes to super-prime properties in Mayfair says Shipton, which boast a high level of technological innovation in all areas: from state-of-the-art security that is multi-purpose and can be monitored remotely from anywhere in the world, to home automation systems for everything from heating and cooling systems to measuring swimming pool pH levels. Often when such systems fail, the cost of repairing them can run into thousands of pounds, says Shipton.
"Many of our properties feature a range of complicated and innovative kits that provide them with their super luxury title. Many find that the 'engine' of their home, which keeps a lot of these services running, is more complicated than what you would find in a car. And, while no one needs explaining the importance of an annual car service or MOT process, the same analogy is not being applied to super-prime homes. Yet, why not?
"Circa 10 per cent of the cost of a car is what it will cost to run the vehicle each year, so the saying goes. Yet no such figure is provided for properties which, given it is often one of the largest purchases an individual will make, seems odd".
Bold & Reeves aims to rectify this with its property management and servicing offer. The business's ethos is based around two key principles: one is proactivity and preventative maintenance. This is a service that will reduce the running cost of a house and help avoid unnecessary or expensive repairs when they are least expected. The second is based around continuity of knowledge, and providing an MOT-like log-book of how the property has been serviced and maintained.
"When we take on a property, we effectively conduct an audit to provide an overview of the current state of the property. We will then create an online logbook or a service record that combines the management of the property and the maintenance it has received on an ongoing basis. The final aspect of our work is a constant monitoring of all property services in real time."
This involves the fitting of specific electronic devices to all critical assets within a home, such as a boiler or cooling system. Readings from the device are sent to Bold & Reeves – sometimes up to every five minutes – allowing the team to almost immediately identify if something is diverging from the norm and a problem is occurring.
"This service gets us into the territory of predictive maintenance, and is a much cheaper option than the homeowner simply waiting for a unit to fail, at which point you will need to pay for a brand new boiler."
In an age when buyers of super-prime luxury expect an extraordinary level of service, Shipton believes this type of servicing is likely to become the norm. To date, his client base is predominantly made up of ultra-high net worth individuals buying homes in Mayfair, Belgravia, Kensington and Chelsea. But the group has also now begun working with developers building in Mayfair.
"Mayfair is seeing a new calibre of the property being offered by developers such as Finchatton and Clivedale. They are offering a luxury living experience in Mayfair that has not been seen before. But there is often a gap between the practical completion of a unit and a sale. During that time, a property still needs to be serviced in order to ensure technology remains up to date and manufacturer warranties remain intact. This is an opportunity for Bold & Reeves to work with developers and pass on a fully serviced and maintained building to the end buyer."