Five Minutes With… William Stabb, CEO, M Collection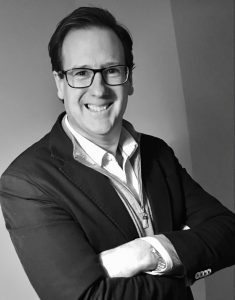 For our latest interview for our 'Five minutes with…' series we speak to William Stabb, CEO and Co-Founder of M Collection with his wife Emily. M Collection is a boutique consultancy agency focused on some of the world's most affluent buyers of real estate and luxury assets. We find out more…
You launched M Collection in 2013, how did it come about?
I've been heavily involved with high-end luxury property for the past 25 years. I've been based all over Europe and working with lots of global developments. I managed to curate a collection of these hand-picked properties that fulfilled a certain standard for potential investors and went from there. The 'M' of M Collection is a reference to my wife Emily, which just stuck!
How much has M Collection grown over the past eight years?
We moved back to the UK in 2016 with our three daughters going to schools in the UK, having all been born overseas. That's meant there have been a few adjustments, but basically the concept has not changed.
Obviously, the past 18 months or so have been hugely challenging. The travel and hospitality side has been tough. Many clients didn't want to spend time quarantined in state-sponsored hotels; flights and travel were non-existent in lockdown; and many clients were cautious. Many still are. While some businesses and clients' wealth have been mainly unaffected or, indeed, prospered throughout lockdown, many have not been so fortunate. We have to be highly sensitive to this.
What sets you apart in the world of super-prime property?
I wouldn't want to be set apart; there are so many good people and companies operating great businesses at the top level. What we offer is a personalised service for our clients and focus on doing that as well as we can. We have built up a niche high-end business and try to be as transparent and honest as we can.
How have you curated your client base?
We have built this up from 25 years of high-end real estate with clients from all over the globe. Our personal network and contacts consist of HNW and UHNW clients and celebrities who want total discretion and one main trusted point of contact. Many of these clients have a home in the UK, with a handful of properties that they own overseas.
How do you look to provide an exceptional service for UHNWIs and what do you find unique about this audience?
This level of service is about normality, honesty and openness. Trust is the overriding factor, though. You only get to mess up once and you are easily forgotten! Clients at this level have their own set of rules; travel plans change in an instant and personal circumstances change constantly. Patience is key. However, regardless of wealth, we are all humans, and we should all expect to be treated in a dignified and professional manner
How did your partnership with Bold & Reeves come about?
During lockdown, we elaborated and diversified on our Partner Programme, and opened this up to the tastes and desires of a luxury home buyer. We now have around 24 luxury partners from Victor Jets, Burgess, Cookson Adventures to Blue Forest Treehouses, Katharine Pooley Interiors and Randle Siddeley. We are very proud of the hand-picked partners we represent and their amazing services.
One of these partners is Tysers insurance who kindly introduced us to Bold & Reeves, which was obviously a very natural fit to our portfolio of luxury home owners.
What synergies does your company have with Bold & Reeves?
We are both focused on the luxury home owner and simplifying and improving their property portfolios. For example, we have a lot of UK and London-based owners, as well as many Wentworth Estate owners who have sizable properties that would benefit from Bold & Reeves services. We aim to open as many doors as we can for them, and for all our partners, to shine a light on the advantages and professional services they offer.
What exciting things do you have on the horizon for both your company and your relationship with Bold & Reeves?
We have just formed our relationship so this is the start of an exciting time ahead. Once clients are back from holidays and with more and more restrictions now being lifted, we hope to open as many doors as we can for Bold & Reeves.
What else is going on in the world of M Collection?
We have established a global network of affiliate partner offices, so we can now offer luxury houses for sale and rental in most destinations globally, including the south of France, the Balearics, the Caribbean, the Swiss and French Alps and Bali. Obviously, many of our properties remain off-market, however, this change will mean that we'll also have around 500 new luxury properties listed on our site – so it's a hugely exciting time.
We continue to offer a very personalised service, all through one point of contact. Keep the system simple, keep it personal and keep going!
To find out more about M Collection, please speak to your personal property manager or visit the M Collection website: www.mcollectionproperty.com