Five minutes with… Rupert Lane, Head of Sales, Infogrid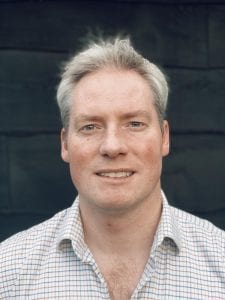 After being deployed as an infantry officer in Iraq and Afghanistan and then working for several years in investment banking, Rupert Lane joined Infogrid in 2019 as Head of Sales. Infogrid is a leading tech company that combines sensors with powerful AI to optimise and automate building management.
This year, Bold & Reeves are partnering with Infogrid to integrate its smart technologies within the existing Bold & Reeves property management system. We've gone behind the scenes to find out more about this exciting partnership.
When did Infogrid first launch?
Prior to founding Infogrid in 2018, William Cowell de Gruchy was working within financial due diligence across large commercial firms. Whilst on site auditing a milk distribution centre, he observed how vital temperature readings for milk storage were being recorded manually on a clipboard. 
Will wanted to look at why this organisation and others like it weren't using smart technology. The first reason was that the solutions on the market at the time were too expensive. The second was that they were too complex; they were too difficult to install, too difficult to incorporate into existing data platforms, and too difficult to use without additional training. And so, he went away to find technologies that could fill the gap in the market.
The result? Valuable data collection and AI solutions that can immediately integrate with existing data platforms – it couldn't get any simpler.
How much has Infogrid expanded in the past two years? 
Infogrid now uses sensor technology and AI to gain valuable real-time insights, affordably and at scale. By combining small sensors with powerful AI, we help support people to optimise and automate building management, saving time, money, and the environment, whilst improving safety.
The Infogrid platform is device agnostic – it can work with various systems without requiring any special adaptations. We source the best and most suitable sensors on the market so that we can provide an end-to-end system and the broadest range of use cases. This is key in reducing stress and complications for the client. We also analyse the data we collect from these different sources to inform clients on how they can change their building maintenance strategy, such as powering down unused spaces to cut waste. 
What type of sensors do you use?
We have about ten different sensors made by three different European manufacturers. Our sensors measure everything across humidity, temperature, proximity (e.g. whether a door is being opened or closed), leak detection, whether a pipe has flushed, desk occupancy, and air quality.  
Infogrid's peel-and-stick sensors simply attach to a surface. Typically, one property can be fitted with the relevant sensors in 15-30 minutes, which means Bold & Reeves can install these in their scheduled maintenance trips without any additional hassle.
What sets you apart in the world of prime property?
We can use sensors around sensitive items such as art, monitor humidity in wine cellars or check the depth in swimming pools. We can do all this in a really affordable way, making it easier for Bold & Reeves to manage a property and also minimise their maintenance trips. The data we collect also helps to advise engineers and property managers on what the problem is and where it is, saving time, effort and money.
How does Infogrid support high-net-worth individuals?
Infogrid's solutions can assist clients from an insurance perspective. By reducing the risk of damage from leaks and poor air quality (potentially damaging art work, wine or leading to mould growth in the property), we can help provide clients with the data they need to reduce insurance premiums through a better understanding of the building, its risks and maintenance. As well as this, the Infogrid platform works towards a better environmental, social, and governance (ESG) profile, reducing the amount of water and energy used. One of our key goals is to help our clients create more sustainable buildings.
How many properties are in your portfolio at the moment? 
We work with thousands of properties across Europe and the US and we're just breaking into Asia. We work with global commercial partners such as ABM Industries, Churchills, JLL, the NHS, and, of course, now Bold & Reeves.
How did your partnership with Bold & Reeves come about? 
I met Bill Shipton, the managing director of Bold & Reeves, through our shared military background and discovered that he was heading up Bold & Reeves. I thought the two companies had great synergies and it went from there. I think that efficiency is at the core of this partnership. If we can help Bold & Reeves deliver an efficient and high-quality service, clients will continue to be happy with the level of service that's provided.  
How does Infogrid fit into the world of building management as a whole? 
Bold & Reeves doesn't work across average properties. They have large, challenging estates to maintain, such as those with air conditioning, complex features or wine cellars. With Infogrid, we can create efficient, healthy, and sustainable buildings, whilst strengthening compliance and reducing costs. Infogrid's real-time data and intelligence feeds directly into the Bold & Reeves tech platform. It's user friendly and helps drive the personalised service that Bold & Reeves curates for each property.
What exciting projects do you have on the horizon?
We're always evolving. We're working on solutions to help properties meet ESG targets; introducing air quality capabilities to alert when CO2 levels are high; and providing information on the risk of virus transmission within different environments.
Another key development for us is making it easier for organisations to visualise their entire estate as a whole, whilst providing specific details around buildings, floors and spaces. This includes our upcoming floor-planning feature that will visualise where sensors are physically located and the data readings they provide. And this can all be integrated within the existing Bold & Reeves system. There are exciting times ahead.
To find out more about Infogrid visit www.infogrid.io or speak to your personal property manager.