Five Minutes With… Robbie Kerr, Director at Adam Architecture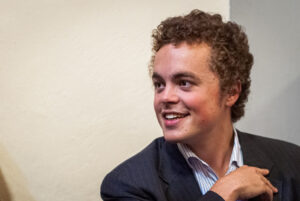 From designing homes to delivering them to completion, we found ourselves talking to Robbie Kerr, Director at Adam Architecture – the leading practice specialising in Classical and Traditional architecture, and contextual urban design. We spoke to Robbie to find out more.
Please could you tell us a bit about Adam Architecture?
The company is about 50 years old. It started off as a provincial Hampshire firm and grew to become Adam Architecture in 2010. The practice has offices in Winchester and London, recently moving into new offices in Somerset House, and is run by six directors. Each of us leads our own projects with our own design ethos, but we all work together under one banner of Classical and Traditional architecture. I became a director in 2016 and I've been running the London office for the last four years.
We are global leaders in what we do – there are very few who can deliver Traditional and Classical architecture in the articulate way we do. Our projects range in scale from private houses and the restoration of historic buildings, to commercial and public buildings, to masterplans including village extensions and major housing developments.
What have been your favourite projects to date? 
I'm working on an extraordinary Classical house in Ukraine and a really interesting project in Nigeria which blends local Edu culture with strong environmental considerations. I've also just finished four townhouses in London off Cavendish Square with really restrained architecture. That for me is where I want my practice to go. I want to remove any ego from designs – yes, the big Classical houses are fantastic and fun, but often it's the more about the everyday that the clients value and delivering their dreams gives the greatest pleasure.
Occasionally, we get some quite quirky projects. I'm working for the Oratory in Oxford where I designed an altar. And now we are looking at works across the whole church. There's never a dull day!
How have the past two years been for you? 
Covid taught us so much about the different ways we can deliver projects efficiently abroad. For example, I haven't been out to Ukraine for two years, yet I've been monitoring the work on site through 3D laser scanning, photographs and video tours. I'm sure there will be lessons learnt when I see it in the flesh. You can't substitute face-to-face business, but Covid has forced us to use and trust in technologies far more than we used to before. Our communication with the teams and our protocols are much better as a result.
What's the demographic of your client base? 
Our clients are getting increasingly younger. There's an emerging generation who are coming forwards which is exciting for us. Of course, there are also wonderfully wise people in their mid-40s and older clients who we look after too.
What sets your service apart? 
Clients often have an aspiration for beautiful Traditional and Classical architecture and it's not always delivered with the same rigour as they would hope. The human eye is so unbelievably sharp – even if you don't quite know what is wrong, something amiss will often stand out.
We take great pride in making sure every detail is done beautifully. As a practice of 100 people, we have the ability to handle projects of all sizes and give bespoke attention to each project. There's no set formula. Some clients have huge wealth; others have a smaller budget. For each one it's about spending money in a really careful way to deliver their dreams – that's a wonderful challenge to be set.
How did you first come across Bold & Reeves? 
I was introduced to the company at a very good networking breakfast at Boodles. The relationship has grown over the years. There's a great synergy with the bespoke side of what Bold & Reeves offer. It gives us the comfort of knowing that our clients will be in the safest hands for the future.
What do you have planned for this year?
Darren Price, who recently joined as Director, will be joining me in London. He's been with us for around 11 years, so we're renewing our strength in London and hopefully finding the opportunities to do more projects across the city. We've had two phenomenal years of exciting projects so we're just building on that.
For more information, on Adam Architecture please visit: www.adamarchitecture.com or speak to your personal property manager.