Five Minutes With… Priya Rawal Founder of The Luxury Property Forum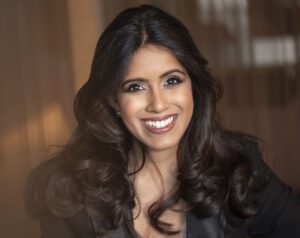 We talk to Priya Rawal about the members-only group The Luxury Property Forum, which she founded during the pandemic. As well as a host of virtual and in-person events, the forum acts as a platform for leaders of the luxury property industry to connect, build long lasting relationships and share insight. We find out more…
How did The Luxury Property Forum start?
I'm a construction lawyer and have worked on developments from beautiful penthouse apartments to hotels to shopping centres. I found that the prime residential developments I was working on seemed to have a number of disagreements and a lot of it was to do with the project team not working cohesively and communicating well. I thought it would be such an asset to the industry for the different disciplines to have a space where they could speak frankly with each other and promote mutual respect and understanding.
At the time, I also wanted to expand my own network and was looking for a group for luxury property professionals and there wasn't anything in the market. So, I set up The Luxury Property Forum (The LPF). We launched it in the pandemic at a time when the industry really needed support – it's been very well received.
The LPF is the official forum for the luxury property sector. We bring together a range of people within the sector, such as the investors, developers, contractors, specialist consultants, architects, interior designers, project managers, property managers, and specialist suppliers. We bring everyone together under one umbrella for networking, collaborations and sharing knowledge and insight.
It works in the same way as a private members' club. If you are a company you pay for the rate according to your discipline and the types of properties you deal with based on gross development value. Such disciplines range from developers, contractors, specialist consultants, advisors and suppliers. All events are attended by senior members and key decision makers of the luxury property industry to ensure a really high level of conversation.
How has The LPF team grown since its launch?
Everyone in The LPF team has different day-to-day jobs which is really important as it brings something from the wider luxury industry into The LPF. Our team includes head of membership Sameera Desai who is a seasoned property investor, luxury brand consultant Jenny Naylor who is currently spearheading the marketing for The OWO, head of business development Sarah Chiappi who is an expert in luxury smart home technology, and head of events Victoria Forbes Watson (currently on maternity) who has a wealth of experience with luxury lifestyle brands.
We have 25 founding members of different disciplines such as CapitalRise, Lees Associates, Langsrove, Elycion, The London Broker, Maison Communications, Lanserring, CMS UK and Accouter Group. Having that range was really important to us. They have helped sculpt what they want from the group, such as more intimate networking events, training and knowledge and a high-calibre selection process for members to make sure we bring in the best of the industry. We now have around 150 members and partners from a range of different disciplines but all true experts in luxury property.
How did you find out about Bold & Reeves?
One of our founding members Pippa & Benoit, who is a prime property and lettings manager, knew Henry Browne, Head of Client Services at Bold & Reeves, and introduced us. We have since done a webinar with Bold & Reeves on how the luxury property industry is changing with regards to technology. The interactive app which Bold & Reeves has created is amazing and has the potential to revolutionise how top property managers will operate and serve their clients.
What events do you have lined up?
We were able to host The LPF Christmas Soirée this month before the most recent restrictions were put in place. More than 100 members gathered at the beautiful Smallbone showroom and The ARX Gallery. It was such a pleasure and a privilege.
Omicron dependant, we have a celebration for Chinese New Year in January and we've started a stream of events around women in luxury property in partnership with Theo Fennell. We also have some special lunches planned at a beautiful Indian restaurant called Kutir in Chelsea, which is our version of a luxury curry club! We will also continue with our all-member monthly twilight soirées and gold and platinum member breakfasts.
Every month we also host virtual events. They provide a solid hour of networking and a lovely safe space where people can talk about the challenges, as well as the positives within the industry. We also have more LPF webinars to come focusing on key issues affecting the luxury property industry, including sustainability, foreign investment, market trends, diversity and mental health.
What are you looking forward to in the New Year?
Welcoming new members and partners and hosting more amazing events to support the industry. We also have a new website launching which is going to include an exclusive member hub and our The LPF directory. And we are delighted to announce that we are also expanding our membership internationally, so that's going to be a big push in the New Year.
It's been a really hard year for everybody, but The LPF has been a constant support for the industry. Not only does it provide insight, business leads and introductions, but it's also about celebrating each other, promoting positivity and building long-lasting relationships.
To find out more about The Luxury Property Forum, please visit: www.theluxurypropertyforum.com or speak to your personal property manager.