Five minutes with… Leon Kalkwarf, owner of Kalkwarf Architects and Tenorite Interiors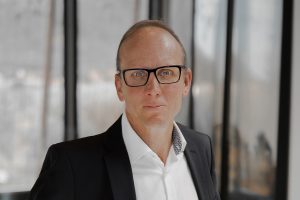 From arriving in the UK with nothing but a backpack to setting up an award-winning architectural practice, Leon Kalkwarf has embarked on an interesting journey to establish himself in the world of prime property. We speak to him to find out more
How did your company start out?
I arrived in the UK in 1997 with just a backpack in my hand. I then updated my degree at the Architectural Association School of Architecture before joining a West End practice, where I worked on multi-million-pound projects for six years. In 2002 I left to start my own practice, Kalkwarf Architects. I had to go back to the beginning doing loft conversions and eventually built the business back to multi-million-pound projects with a very talented team.
In 2015, I set up Tenorite Interiors to help service our clients better. We'd always done interior architecture informally, but set up a dedicated team to move this forward. This has worked extremely well to date as we share office space and constantly cross-reference between the two companies.
How far has your business come today?
From starting off with loft extensions, our biggest project to date had a gross development value of £280m. Our reputation has quietly grown and we've worked with all sorts of people from property developers to royalty, princesses and sirs!
What sets you apart in the world of prime property?
There are lots of very good design practices out there. We do, however, have the advantage of being both architects and interior designers. This means that we have a constant cross-flow of ideas and experience. We are also, with the utmost humility, both excellent designers and project implementers.
On the architectural side, we're as adept at navigating the complex planning system as we are at getting buildings and interiors built. With interiors, we understand the build process and where we fit in, whilst having a very talented team of designers. Like many, we have won numerous international design awards, but we really do push the boundaries of design. Sometimes even setting trends.
What is the reach of your business?
Our projects have ranged from central London to Greater London in just about every borough. We've done work from the south coast of England to northern Scotland. Overseas we've successfully worked in the Bahamas, the Caribbean, Mallorca, and Ibiza. We've also completed luxury projects in the Swiss ski resort of Zermatt. Our most ambitious project was the concept design for a Football World Hall of Fame in Dubai. I think the Emir is still thinking about it!
How do you look to provide an exceptional service for UHNWIs and what do you find unique about this audience?
Firstly, we never design a project for our portfolio. We either lead a client in design terms if they need real assistance or we can work with clients who have more of an idea of what they want. But we fully understand the world that they live in and what they expect.
Most UHNWIs are really interesting people with great success stories. No two clients are the same, so getting to know how they see the world and what they want is fascinating. We've become very adept at swiftly getting to understand each client, which makes the process all the easier.
What synergies does your company have with Bold & Reeves?
We, along with Bold & Reeves, realise that UHNWIs can have limited time in general. So, when it comes to design projects, which can be very time-consuming, we try to make life as easy as possible for them and have honed our processes to reflect this.
How does your company fit into the world of building management as a whole?
We can be called in for anything from a single furniture piece, which has become tired to a full property redesign and furniture refit. We often get involved in complex planning permissions for those looking to build value into an existing asset or simply create more space.
To find out more about Kalkwarf Architects or Tenorite Interiors, please speak to your personal property manager or visit: www.kalkwarf-architects.com and www.tenorite-interiors.com