Five Minutes With Jenny Allan, Founder Of Jenny Allan Design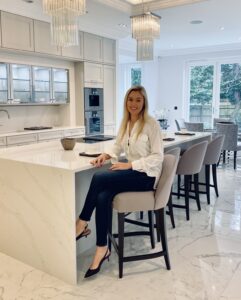 From starting out on her own to growing a team and working with some of the world's most high-profile clients, we talk to interior designer Jenny Allan about what it takes to succeed. Read on to find out more…
How did you start your business?
I started my own business eight years ago, prior to that I was working in high-end property development. Spending a lot of time on site was incredibly helpful to see how things work and understand construction. That experience provided good grounding within the industry and really helped me understand how to add value to a property.
What was it like setting up your own company? 
I started by designing properties in my family's property development business and then following the success of the sales of those properties, other developers asked if I could design the interiors for their developments.  The buyers of these properties then became private clients at which point I launched the business on my own.  We are now a team of six and we will be expanding again in the next six months or so.
It's definitely nice to have the team around me and we can offer the full service including interior architecture, design and furnishing.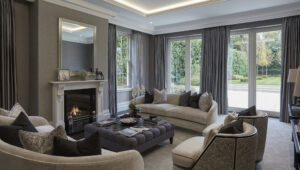 What do you think sets you apart in the world of prime property? 
I think part of it is the client service. I'm very much hands-on – I'm involved all the way through a project and I'm the main point of contact for clients. This has won us major projects because we have enough capacity to take on large projects but we're not so big that clients don't get that personal attention. When you are dealing with UHNW clients, they like that personal relationship.
What's unique about your aesthetic?
Our typical in-house style is classic contemporary, but we are flexible. We're led very much by the architecture and the client. If we're designing a country house, our design will reflect that – it's not going to be in the same style as a house in Mayfair. And if a client wants more colour or wants the style more traditional, this is something that we are very happy to create.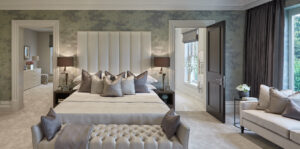 Where are your clients based? 
We have many projects in prime central London in Belgravia and Knightsbridge. We also work in the home counties and overseas. It's quite a mixture, but our focus is predominantly in central London and the surrounding areas.
When did you first meet Bold & Reeves?
I had a Zoom call with the Bold & Reeves client relationships manager Henry Browne and COO Nick Samuels, and I've since met Henry in person. We have a very similar client base and a similar outlook around client service and building client relationships: it's not a quick process – we always take a long-term view.
What are the synergies between Jenny Allan Design and Bold & Reeves?
For us, trust is everything. It's important that clients trust who is working in their home. It's such a personal space and there are so many valuable items. We also want clients to have trust and confidence in our creativity and execution.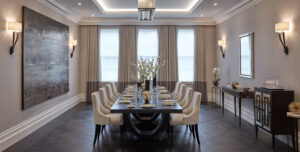 Are there any stand-out projects you've been working on?
There are a number, but we completed a country estate recently. We were restoring an older property from the 1900s and bringing it to the present. We made the most of its original features rather than over modernising.  We also worked on a large property in Belgravia, which had a basement entertainment complex, with a gym and spa – that was exciting.
Last year saw us create the world's first flying nursery with FlyEliteJets and we have some more exciting projects like this to come.
What will it be like for you in the run up to Christmas?
We have a number of deadlines to meet at Christmas. However, last year, we had a client who completed the purchase of their house on 10th December and then wanted to move in by 10th January. They barely had any furniture, so we worked over Christmas and put some suppliers under major pressure! Hopefully, it will be more relaxing this year!
To find out more about Jenny Allan Design please speak to your personal property manager or visit: www.jennyallandesign.co.uk