Five minutes with… Fraser Slater, Founder and Chief Executive of Ludgrove Property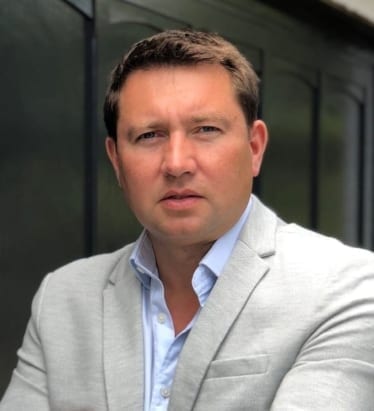 For more than a decade Fraser Slater worked in equity fund management in the city, setting up his own company in 2007. In 2015, he turned his attention to the prime property market and launched Ludgrove Property, a company that sources property for HNWIs, investors and developers. As well as this, Ludgrove conducts research into the prime London property market.
This year, Bold & Reeves has teamed up with Ludgrove Property to bring clients a unique insight into prime property as an investment. We've gone behind the scenes to find out more about this exciting partnership.
How did you make the move to property?
Around 2011, I decided to take some time out from the city after more than 15 years in investment banking. My wife and I had a house in Kensington, which needed an extension and refurbishment so I focused on that and very much enjoyed it.
Property has always played a key part in my family. My father was an architect, my brother is a property developer, and my wife is an interior designer. It was around about the time of the renovation that I started to look into research around the prime property market in central London.
The only research that was there was written by sales agents and there wasn't much of it. There was (and still is) nothing written by buying agents, which I found quite remarkable considering its value. The private housing stock in Westminster and Kensington & Chelsea equates to around £140 billion – that's around 7% of the UK economy. But the amount of research written on it is virtually nothing.
As a result, I decided to launch Ludgrove Property primarily as a buying agency but with a focus on research. We add value to our clients through market level analysis as well as asset level analysis. The due diligence we perform on the market means our clients are well informed and have an edge over other buyers.
How much has Ludgrove Property expanded since its launch?
Our research has been featured in The Times, Forbes, Prime Resi, Deutsche Bank Research, Property Week and Mansion Global, among others. We've also met with the Treasury and the Ministry of Housing with regards to stamp duty; they've listened to us but they haven't cut it – there's still hope though!
What sets you apart in the world of prime property?
Generally speaking what we do is divided into three parts. Firstly, we buy properties on behalf of high-net-worth end users, mainly based overseas.
Secondly, we source off-market apartment blocks for developers and investors. Investors find blocks attractive because they pay commercial stamp duty of 5% rather than the main rate. And they have better liquidity on exit because they can sell units individually, rather than as a whole block. As an investor, this approach is much more appealing than buying a whole house for say, £10 million.
The final area we work in is development opportunities. Given my background in the city, we source and appraise investment opportunities. We do a full in-depth financial appraisal of each opportunity, such as working out the cash flow model and the rate of return.
Do you just operate in London?
Our main focus is prime central London, zone 2 and a few other areas. Now that we've moved to Surrey, I've also been looking at the investment opportunities here.
What makes your service for UHNWIs unique?
Our unique advantage is providing privileged access to off-market properties. Apartment blocks are hard to source for a reason. A lot of them have been split up and sold as individual units, so there are very few free-standing period apartment blocks. Often a freehold owner won't want to market a block in case they lose the tenants. And if it's a new build, developers will try a two-pronged approach off-market but trying to sell the asset as both a block and individual units, to see what gains the highest premium.
As well as this, our contacts in the industry help us provide a full 360 service to HNWIs. We have great relationships with a number of partners, such as removal companies, architects, lawyers and planning consultants – and of course property managers such as Bold & Reeves.
How did your partnership with Bold & Reeves come about?
I met Henry Browne, the Business Development Executive at Bold & Reeves, a year and a half ago and we hit it off. He has introduced me to a few of his clients and since then, we, at Ludgrove, have looked to develop the partnership by sharing our insights into the market.
What synergies does Ludgrove Property have with Bold & Reeves?
Much like Bold & Reeves, we look to reduce stress and save time and money for clients. Take apartment blocks for example. We have access to a wide range of off-market apartment blocks across zone 1 and zone 2. Our database shows the asking price of the asset and from this we can calculate £ per sq ft, what the rental yield is at the asking price, and then what that might look like with a 10-15% discount. This level of service, consultation and insight is something that we can share with Bold & Reeves clients.
How has coronavirus made an impact on the prime central London property market?
We've been working on quantifying the impact of coronavirus in prime central London. We compared the prime London property prices in November 2019 to November 2020 against mainstream London property prices. Mainstream London is up 4.5% and prime prices down by -1%. However, 30% of buyers in prime central London are non-resident overseas buyers and they've been pretty much entirely absent this year. So to only see a 1% decline in the market when nearly a third of buyers haven't been present is actually quite remarkable.
What's your plan for 2021?
'Plan for the worst and hope for the best' is normally my mantra! We are looking to grow the business and take on more clients. And we'll be launching new research every month. Most recently, we've been looking at how prime central London property and rental yields compared to investments like gold, bonds, and the Global Wealth Index. The findings are really interesting and we hope to shed some light on the industry.
To find out more about Ludgrove Property visit www.ludgroveproperty.com or speak to your personal property manager.