Five minutes with…David Randle, Managing Director, Tysers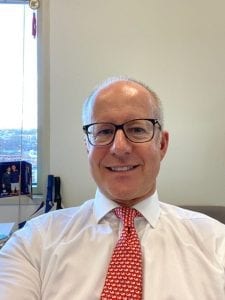 This month marks an exciting new partnership between Bold & Reeves and Tysers, an international Lloyd's broker. Together we aim to offer the best insurance solutions on the market through Tysers' expertise and our detailed asset protection services.
We meet David Randle, managing director at Tysers, to learn more about the 200-year-old company, as well as his successful career in insurance that started when he was just 16 years old.
When did you start working in insurance?
I started when I was very young. I left school at 16 and went straight into the city to start my career. Almost 40 years later – here I am. I'm probably the only person you'll meet who actually wanted to go into insurance!
I was taken to Lloyd's of London when I was about 14 and absolutely loved it. I thought: this is what I want to do. Back then, it was much easier to get a job. You didn't need any A levels or a university degree, so I started right at the bottom and worked my way up. It's like the famous golfer Gary Player said: "the more I practice, the luckier I get."
How long have you been at Tysers?
I've been at Tysers for 25 years. Tysers is one of the oldest firms of Lloyd's brokers. We celebrated (or didn't celebrate!) our 200th anniversary last year. We're looking forward to that long-awaited party!
Tysers was founded in 1820, can you talk us through its rich history?
The company has its roots in shipping, insurance and underwriting. The business started when the Tyser family used to charter vessels down to the Asian-Australasian basin. They later bought their first ship, The Hawkes Bay, and were pioneers of the refrigerated freight market. They would sail to New Zealand with everything from printing tools to rail road equipment, stopping off at African and Asian countries, and then bring back exports like lamb and wine. They then naturally moved the business into insurance underwriting and then insurance broking.
As a business we employ just over 1,000 people and have around $3 billion of premium in the insurance market. The business has grown a lot over the years through acquisition. In fact, we were acquired back in 2018, and they liked the name so much that they rebranded everything to Tysers.
What's your role at Tysers?
As managing director, my job is to help the business grow and develop, but I still look after some long-standing clients. The key to my success is getting on well with people, meeting clients and then devising a good insurance solution for them. It's not just about pitching the business; we're there with clients throughout the entire journey, such as when they have a claim or any issues.
What areas of the business does Tysers focus on?
We cover everything – shipping, cyber, property, healthcare, construction – you name it. Part of our business is also focused on sport, music and entertainment, so we look after a number of high-profile individuals from these industries. This means we not only insure a band on tour, for example, but also their personal possessions – their homes, cars, travel, superyachts and planes. Our private client team specialise in dealing with high-net-worth individuals and a few ultra-high-net-worth individuals too.
How did your partnership with Bold & Reeves come about?
We met Bold & Reeves at a networking event and then responded to a formal tender to become their insurance partner in order to add value to the services they offer clients. We have a good synergy in the way that we both do business.
How does the partnership between Tysers and Bold & Reeves work?
As an insurance broker, we are the middle man. We place risks into the insurance market, but don't physically underwrite them. The high-quality service Bold & Reeves offers makes their clients a very attractive insurance risk for us. By delivering an exceptional level of detail, they resolve maintenance issues very quickly and efficiently. As a broker, that's something we can articulate to an insurer to negotiate preferential terms for clients.
What makes your service for HNWIs so exceptional?
Our job is very much about understanding a client's lifestyle. They've worked hard to obtain the finer things in life and we want to help protect those assets and provide advice around things such as security and valuations. By being open and honest, you win trust and respect, which is hugely important because that's what builds long-term relationships. Our biggest asset is our people; if we don't do the very best for our clients, we don't have a business.
How do you provide the best value and service for HNWIs?
We have an incredibly close relationship with high-net-worth insurers and there are a number who specialise in flexible coverage to cover assets such as fine art, wine collections, expensive watches, superyachts and cars. We have great relationships with market leaders, which gives us the freedom to negotiate the best terms.
What's does the future hold?
Well, I won't be retiring anytime soon. I'm 38 years on from when I started and I'm still really enjoying it. As a trusted advisor, I really value the unique insight we're given into businesses and individuals and the opportunity to provide innovative solutions. A lot of the people we work end up as friends – it's a real privilege.
To find out more about Tysers visit www.tysers.com or speak to your personal property manager.