Five Minutes With… Alex Rees, Founder and Managing Director, Rugs of Petworth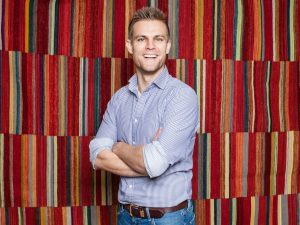 Since the beginning of lockdown, everyone has invested more time and effort into the places where they live. Plants, décor, paint and rugs – every little nook and cranny has been refurbished and revisited to make the most comforting place to live, work and relax. At Bold & Reeves, we've been helping our clients at every stage. We sat down to speak to Alex Rees, Founder and Managing Director of Rugs of Petworth to find out how carpets can make a house a home.
When did you launch Rugs of Petworth?
Originally, I started helping a friend of the family in a rug shop in 2001 in North Buckinghamshire. Then, when I had been working with handmade rugs for about eight years, I took the step to open a store of my own. I opened the store in Petworth, West Sussex in 2008. It was a strange time – much like it is now. The global banking crisis was just about to strike, so we had an interesting first year or two! But we've been here ever since.
What attracts you to the craft of handmade rugs?
Working in the world of one-of-a-kind handcrafted rugs and knowing that you are a part of a trade that has existed for thousands of years is really special. I feel privileged to be part of it. Our rugs continue to be hand-knotted in exactly the same way – the only thing that has changed are the types of dyes people use. It is just amazing to think that craft still exists out there in the world today. It's very special.
Where do you source your carpets?
We source rugs from looms and rug producers in Turkey, Iran, Afghanistan, Pakistan and India. Each country has its own flavour, but you'll find weaving on the whole of the old Silk Road from Turkey to China.
With so much expertise, what are your favourite styles and why?
The kind of rugs we have a real niche for at Rugs of Petworth are decorative Afghan rugs. Afghans are brilliant at taking classic designs and making them fresh and relevant for today. They'll take the classic Persian designs of the 19th century and declutter them and use fresh, relevant colours that are perfect for modern interiors. We call them 'modern classics' – they're ideal for everything from a period property to a contemporary setting. We work with a lot of Afghan producers but we buy them from Pakistan where they go for washing and finishing.
However, I personally have a soft spot for Persian tribal carpets – they are vintage pieces. They are strong in colour but they're a bit of a passion of mine; they are the ones I have on my walls at home!
Do you visit the countries and suppliers yourself?
I've personally sourced every rug in our inventory from the country of origin. We're dealing with rugs you can't order online. I normally travel at least twice a year to Pakistan, Turkey, India and Iran when possible. I've spent the past decade building up relationships and finding contacts in these countries. We work with some of the best producers in the area. I might look at 5,000 carpets in one visit and just pick the best 50. We put a lot of time into the sourcing.
How much has the company grown since you first started?
I've always wanted to deal directly with the consumer, so we don't really do a lot of business with interior designers or stores. We take our carpets to a client's home and present three or four different options in situ – there's no pressure or obligation to buy anything. We just hope to find the right thing for them.
We've also started a new partnership with Sofas & Stuff. They specialise in British handmade sofas and they have 17 stores around the UK now. We have opened a rug department in their Henley-on-Thames store, which is the first time we've branched out and had a second location.
What synergies to you have with Bold & Reeves?
I've been good friends with Nick Samuels, COO of Bold & Reeves, for a long time and there's a strong cross-over in our clientele. We are discreet and we're used to presenting and maintaining rugs for the kind of properties that Bold & Reeves work with.
How does Rugs of Petworth fit into the world of property management?
The rugs that we buy and sell will last people for decades, and to make them last longer we offer a rug maintenance service, such as washing, repairs and cleaning. Most people don't realise that it's actually the dirt in the knots of a carpet that wear them out not the pressure of people walking on them. A periodic deep wash is good to schedule in, as well as any repairs.
What exciting developments can we expect from Rugs of Petworth?
We're moving to a new showroom. It's a big 2,500 ft showroom in Petworth. We've been working in a charming and characterful Tudor cottage but all the rooms are quite small, so the new showroom will be an exciting opportunity to show off our rugs to their full potential!
To find out more about rug maintenance, please speak to your property manager or visit www.rugsofpetworth.co.uk