Summer Servicing: Swimming Pool Maintenance In London
You might have read our previous blog about heat waves and air conditioning. In much the same vein, as summer starts to ramp up, at Bold & Reeves we are also on hand for swimming pool maintenance.
Lots of our clients have different swimming pools and spa facilities, from plunge pools and lap pools to outdoor pools and pools that transform into dance floors. You name them, we've serviced them, maintained them, and repaired them. All types of pools benefit from our regular professional servicing.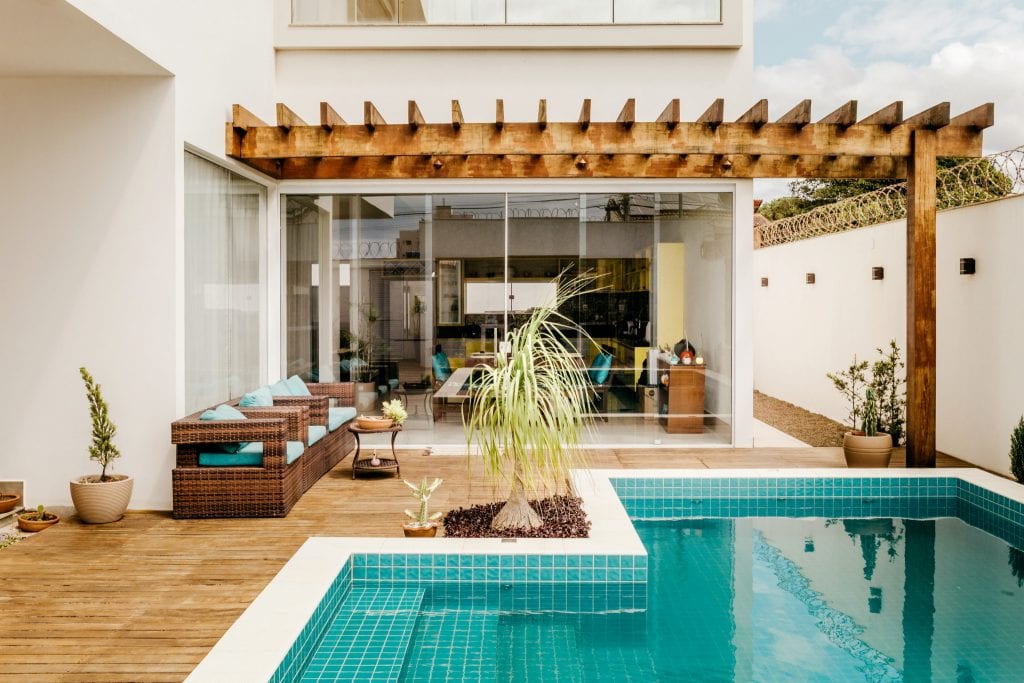 What does maintaining a swimming pool involve?
Monitoring the water – keeping the water in pristine condition it will help protect the longevity and working life of the pool. Chemicals in the water will need to be monitored constantly to ensure that they are at the required hygienic and healthy levels.
General cleaning – cleaning the pool will help to avoid dirt accumulating in the water and along with the tiles of the pool. Basic brushing, vacuuming and filtering will help with this. Alongside this, we can re-grout mosaic tiles to ensure that the swimming pool is looking pristine. We can also help to ensure pool covers and the surrounding areas are kept in pristine condition.
Servicing filters and pumps – we will need to regularly check the performance and condition of filters and pumps to ensure that the pool systems are working properly. Any broken or malfunctioning parts can lead to system failures and higher energy bills.
Heaters and controls –  at Bold & Reeves, a dedicated property manager will oversee the maintenance of all the parts and ensure expert maintenance teams are called into fixing and repairing any damage or general wear and tear. This includes gas and oil boilers, heat pumps, dehumidifiers and air handling units. It is essential that all of these appliances are serviced regularly and that all components are kept in good condition to avoid unnecessary faults and reduce the need to replace parts.
The plant room – Over time, the equipment in the plant room can experience wear and tear. Often this is not seen as a priority by clients to fix, even when they undergoing restoration works. However, any system failures in the plant room can seriously damage the building and surrounding areas, particularly within a period property. It is vital that these are maintained and updated when relevant to avoid incurring major costs later down the line. We can also help advise and install remote monitoring systems or provide recommendations for more technologically advanced products that might be available on the market at competitive prices.
How and when does it start?
All our clients receive an initial property assessment when they start the Bold & Reeves service. From here, we can determine what servicing is required and when, and we can also schedule planned maintenance, whether that's weekly, fortnightly or monthly depending on how often the pool is used, whether it's indoors or outdoors, or how big it is.
We have curated a little black book of vetted partners, so you can rest assured that expert engineers will be used to service any problems you may have. We can also solve any problems when your property is vacant to ensure all systems are up and running efficiently for your return and to ensure all parts are properly maintained when not in use.
But it's not just pooling. We can help service spa areas that include Jacuzzis, saunas, steam rooms and shower areas. In fact, we can help service and maintain all of these parts together to reduce call-outs and plan the appropriate maintenance for each one in the designated logbook.
Good swimming pool maintenance can be hard to find in London, particularly ones that are run by trusted experts who offer competitive prices. At Bold & Reeves, we want to help add value to your property. By keeping your pool in optimal condition we will ensure that is clean, hygienic and, most importantly, ready for you to enjoy.
For more information about our swimming pool maintenance, please get in touch with Henry Browne: henry.browne@boldandreeves.co.uk