Five Minutes With… Siv Sivasamy, New Business Director at Charles Square (CSq)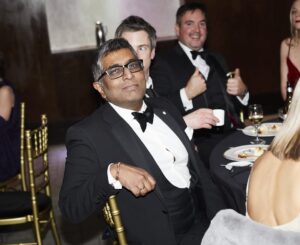 This week, we sit down with Siv Sivasamy, New Business Director at Charles Square, the premium IT security specialists. He tells us about joining the company in 2021 and what tech security means to people in the modern age.
How did Charles Square launch?
The two co-founders, Craig Harris and Gareth Broekmann used to form an internal IT team for an $8 billion asset manager. Having been there for a number of years, they noticed a gap in the market for supplying Chief Technology Officer (CTO) services to smaller hedge funds and family offices that didn't need a CTO full time.
Charles Square was formed in 2014. Our first client was on Charles Street and our second was on Berkley Square – hence the name. Over the past seven and half years, we've grown from two clients to 260 clients. We are ISO27001 accredited and work predominantly with financial services and regulated companies, but as part of this, we work with the principal families of hedge funds to provide strategic advice on their technology issues – this includes technology in their homes.
What services does Charles Square provide?
We've expanded out from just a CTO offering to offer IT support, IT security, cyber security audits, virtual Chief Information Security Officer (CISO) services, as well as supplying tech products – from laptop screens to mice, all the to the way millions of pounds worth of server equipment. Working with both businesses and families, we also offer 24/7 support so we can fix problems immediately.
When did you join Charles Square?
I joined in 2021 as New Business Director to help grow the business. My whole career has been focused on delivering technology solutions to the hedge fund, private equity, and family office sectors, and it's great to be part of a team that puts the client first.
Is there a lot of emphasis on educating clients, as well as providing support with IT infrastructure?
Education plays a big part whether we are working with a family or a company. The user is the weakest point in any institution's security, so you have to educate the end-user. A big concern for some of the families we work with is that the children understand the technology much better than the parents. A kid might leak something on Instagram that could have drastic issues on their house and household. We help parents keep control of that.
At the same time, we also manage the infrastructure. Some ultra-high-net-worth individuals (UHNWIs) have huge server rooms that operate everything from security and heating to lights on the staircases that turn different colours depending on who's walking up to them. As we become more and more dependent on technology, managing it is going to become a bigger issue.
Technology is changing all the time – how do you keep up with those changes?
We have an expert team who are dedicated to this area, each with an experience of 10-20 years or more. We don't hire any first-line engineers, we only hire second or third-line engineers and specialists. Their job is reliant on understanding and keeping up to date with changes in technology. We don't actually call them engineers at Charles Square, because we want to recognise the people first and the technology second.
How is the Charles Square approach unique to working with UHNWIs?
Part of it is a mindset and understanding of what people need, want and expect. Everyone that joins Charles Square goes through a two-week training course. We call it Charles Square University. The first week is spent understanding what it is like to deliver services at a high level and why clients use five-star services.
To provide more background, we've spoken to people who deliver luxury services, such as a butler at Buckingham Palace, a general manager of a five-star hotel, a bespoke jeweller, and a former royal protection officer. While what they deliver is very different, the mindset is very similar.
How do your services fit into property management as a whole?
We've just started working with Bold & Reeves on a more constructed basis. We've been referring clients for a number of years now – it's great to have a group of trusted advisers that you can recommend. Bold & Reeves offers property management with a lot of technology and we can support that with services such as our WiFi and cyber security audits.
What are Charles Square's core values?
We value transparency beyond anything else. In a similar way to Bold & Reeves, our clients can see what is going on and what's been dealt with via our platform. We are always keeping up to date with technology changes, which differentiates us from a lot of people in the same sphere. We don't tell our clients what technology to use; we find out what they're using already and onboard them with that technology. It's about putting people first and technology second.
For more information on Charles Square, please speak to your personal property manager or visit: www.csq.global