Five Minutes With… Henry Browne, Head of Business Development at Bold & Reeves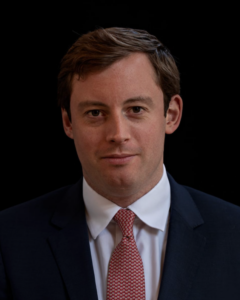 Having recently been promoted to join the Management Team at Bold & Reeves, Henry Browne is a trusted and highly valued member of staff. As Head of Business Development, Henry has been building relationships and initiatives to advance the growth of the company for more than three years. We find out more…
What were you doing before you joined Bold & Reeves?
I worked as an estate agent in Knightsbridge for six years. I had previously done a masters in real estate at South Bank University. Having left there, I was intent on going into the commercial world but opportunities arose in residential. Once I started, I never looked back.
When did you join Bold & Reeves?
I joined Bold & Reeves in January 2019 to support the Business Development Team. Since then, my position has changed in numerous ways. I now head up the Business Development Team and I'm involved in the day-to-day running of the business, looking after our existing clients, as well as bringing on new ones. In addition to that, I'm trying to expand the network of services we provide clients so we can continue to deliver a complete end-to-end service.
What are the challenges of your role?
Working in property management as a whole is challenging. People tend to call you when something is going wrong instead of when something is going well. It is a problem-facing industry. Being diplomatic throughout these complex situations, where emotions run high, is incredibly important. We deal with challenges on a daily basis – it is part and parcel of the business. If we weren't good at solving them, we wouldn't be in business.
What are the highlights?
I have had numerous highlights of working at Bold & Reeves, whether that's bringing spectacular properties into our portfolio or receiving amazing feedback from clients. Most of all, I enjoy working with our team and partners. We have an amazing network of people around us – they make sure that each day isn't boring.
What is the most exciting partnership you have developed since being at Bold & Reeves?
When I first joined Bold & Reeves, I saw a clear correlation between property management and the insurance market. "Property management" translates as "risk management" in their world, and that's a partnership I've always wanted to focus on. We have now set up a full-time formal partnership with Tysers, who are our insurance broker of choice. I'm delighted to say it's born fruit for both of us so far. I see it being a crucial part of the business moving forward.
Why does Bold & Reeves stand out for high-net-worth clients?
It's not a forgiving area of the market, so our attention to detail and attentiveness are incredibly important to our clients. On top of that, I would say our ability to handle a crisis means we stand out from the crowd. When there are tough, difficult and complex situations to overcome, that's when we are at our best.
What makes the Bold & Reeves platform so unique?
The benefits to the Bold & Reeves platform are two-fold. They can be looked at from both the client's and the property manager's point of view.
For the client, we provide complete transparency. All of the invoicing and property management information is stored in one place. That transparency and trust is invaluable and it helps protect the value of their assets over time. The super-prime level of the market really needs that level of detail and information.
For property managers, they have a complete overview of their portfolio. They can manage a large number of houses and flats efficiently with all the information in one place. The platform allows them to schedule planned maintenance across their portfolios and provides reminders to make sure that those schedules are maintained.
What's in the pipeline for Bold & Reeves?
There are lots of exciting opportunities on the horizon for Bold & Reeves. We are having ongoing conversations around white-labelling our technology with discussions about licensing in the UK, in Europe and the United States.
Meanwhile, the property management side continues to grow from strength to strength. We are very lucky to have a network of buying agents, estate agents and people across the high-net-worth space referring us to new clients and their amazing homes in London. There is always an exciting opportunity around the corner and it's just about taking advantage of it.
To find out more from Henry, email him at: henry.browne@boldandreeves.co.uk