Five Minutes With… Alex Erchov, IT Director at Bold & Reeves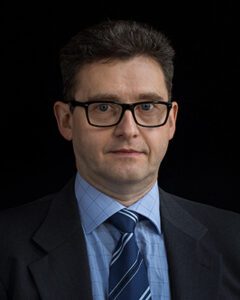 Alex Erchov heads up the IT systems and teams at Bold & Reeves to deliver a groundbreaking online platform for the business. We find out more about how far the company has grown since he started.
When did you join Bold & Reeves?
I've been with the company for six years. Previously, I worked with Bill Shipton, the Founder and Managing Director of Bold & Reeves, in the 90s and 2000s on other projects.
Bill is very technology minded. He wasn't taught computer science, but he has an amazing grasp of what he needs to get out of it. There's no limit to his ambition which is so great from the technology side. I don't need to persuade him to do things, in fact, normally it's the other way round! He wants to use technology to advance the business, by doing things for the company and customers to make it useful.
Bill also understands that IT systems need regular updates to suit the needs of our customers as they evolve. There are limitations to what technology can offer and there is a cost. I am very lucky that Bill understands both of those things, and my role is to help him implement the relevant systems within these constraints.
What were the IT systems at Bold & Reeves like when you first started?
When I started, the business was young and ambitious. Bill had a very clear view of what he wanted to achieve. I had to take what was already in place and start updating and changing it. The systems were trying to do useful things but were doing it in the wrong way.
It's typical with a start-up to do things quickly. There's a phrase in the industry called 'technical debt'. This means that when you set things up quickly you have to come back later down the line to fix the corners you cut, and help rebuild the system. It would be nice to build things up properly from the beginning but there are always constraints which mean you can't.
At the beginning there was a lot of hands-on work. It was about taking what was there and gradually improving it. On top of this, I have since been integrating new functionality and platforms to make our technology better.
What is unique about Bold & Reeves' cutting-edge technology?  
Bold & Reeves platform isn't so much about unique software – it's more about the unique concept. We've created a logbook for your property similar to the kind of logbook you might have for your car. We don't use revolutionary technology to do this. It's about collecting the right information, structuring it in the right way, and making it available in the right way. We try to use things that make the system look modern and easy to use, for both customers and the Bold & Reeves staff who use it. That's what's also unique about our system – it's for our property managers as well as our clients.
The key thing for clients is that they need convenient access to our information. The Bold & Reeves logbook is a web-based client portal and mobile app. We provide an easy way for a client to raise a query, such as a crack on a wall. Through a few taps on the phone or clicks on the mouse they can send us a message that all our property managers pick up.
How does the Property Logbook make property management better?
It all feeds into our concept of transparency. Most homeowners who use a property management agency will have no idea where their money is spent or how it is used – especially if the property in question is large and complex. We have a very detailed record of everything that has been done on a property and it is itemised in a way that is easy to understand.
Clients may ask what work they had done on a specific room last year and how much it cost. Or perhaps which contractor they had working on a specific piece of equipment. We make sure the answers are right there and easily accessible.
How do you implement strong security for Bold & Reeves?  
Cybersecurity is my pet peeve. In the modern world there is a lot of danger out there. A good analogy is the security of house: you could put locks and cameras everywhere, but they're no good if you don't also teach your kids not to let strangers in. The chain is only as strong as the weakest link.
We update our staff on key protocols within the industry and specific techniques, and we always monitor our system's perimeter. We use penetration testing by a third party – the third party is the founder of a cyber security body that is supported by the government; they're very good at what they do. We also have gatekeeper systems in place to stop any attacks automatically, and implement two-factor authentication for our clients and our staff.
To find out more information about the Bold & Reeves Logbook, please contact Henry Browne: henry.browne@boldandreeves.co.uk