Five minutes with… Lucy Russell, Founder of the Lucie App
Lucy Russell founded the Lucie App in 2020, bringing the best brands in beauty, wellness and fitness directly to people's homes in London and the Cotswolds. We find out more about the Lucie VIP offering for Bold & Reeves clients.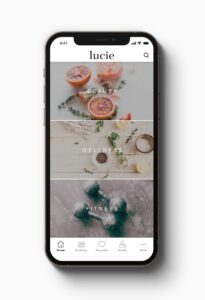 What led you to create the Lucie App in 2020?
I've always worked with high-net-worth individuals (HNWIs) through various concierge companies, such as Quintessentially. My background was initially in property, where I looked after a lot of HNWIs in London, Europe and the Caribbean. After working with these clients, I understood that they're always on the lookout for the very best services, from security to interiors to health and beauty.
Lucie started during the Covid pandemic. Initially, it was hard to get the very best professionals to come to your home. But during the pandemic, experts began to realise that they could still maintain their reputation without the need to be in a salon five days a week. So, we created the Lucie App to bring those five-star wellness services into people's homes with ease.
How does the Lucie App work?
We wanted it to be a platform like Net-A-Porter but delivering wellness into the home instead of clothes. There are a few mainstream beauty apps that exist but I wanted a platform where you can expect a high level of service.
We partner with brands who supply us with experts. For example, some of our hairdressers are from Jo Hansford and Daniel Galvin and some of our masseurs are from Bamford. We also work with freelancers who have extensive experience working with similarly established companies. It's about getting the best of the best at home – it should be the same as walking down Sloane Street and into one of the best salons.
What is the reach of the app?
We launched in the Cotswolds, followed very quickly by London. We find that the app is used a lot in Chelsea, Marylebone, Mayfair and Notting Hill, where the majority of our clients live.  Most of our clients are multiple homeowners and they travel a lot. The idea is that we will eventually roll it out to all of the destinations they typically travel to, such as St Tropez, Ibiza, Mykonos, Paris and New York.
How does the Lucie app differ from anything else out there?
It is an address book of the very best experts which is quite hard to come by. Most of the brands we work with have never offered at-home treatments before. We also know how busy HNWIs can be and so we offer the right level of service for them. They are quite demanding, and rightfully so because they pay the prices. We respond quickly and deliver quickly. Someone might be flying into a hotel and want a massage two hours later – that's where Lucie comes in.
How did your relationship with Bold & Reeves come about?
We were introduced through the developer Finchatton. Properties often have spas or pools, but Bold & Reeves recognise that it's about offering the next step. People want their houses to run like hotels – they don't want to have to get in a taxi to get everything they need. Bold & Reeves recognises that apps like ours are the future.
How can Bold & Reeves clients access Lucie?
Bold & Reeves clients can request the Lucie app. Their app will be personalised to them with a Bold & Reeves logo and additional VIP services. We will be able to give them priority bookings and let them know when certain professionals are in London for exclusive appointments.
How do you manage privacy and security on the Lucie App?
Everyone has to sign an agreement when they join whether they're a therapist or a client – security for both is really important. We do background checks when we work with many therapists and, because our therapists work with the top brands, we know they've already been through an additional security filter.
To find out more about how to join Lucie as a Bold & Reeves client, please contact your personal property manager. You can also visit: www.lucieapp.co.uk